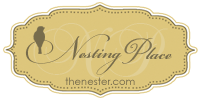 "It doesn't have to be
perfect to be beautiful"
That's the motto behind The Nester's beautiful (and near perfect) decorating ideas and tips that she shares over on
her site
.
I like to try to make wherever we reside cozy. I think this desire has grown as I've gotten older. I see more meaning to making our home a refuge now than in years past. I also really like The Nester's motto because we live in a very imperfect rental right now, but...that doesn't mean that I can't try my best to make it a place we like to be. It's challenging and fun all at the same time.
Here are a few things (in random order) that have stopped me from being more creative in making our house more of a home in the past:
1. space
or
lack of it
2. not knowing how to use a certain tool or piece of equipment to get a job done
3. feeling overwhelmed by all that
could
be done, so then making the decision to do nothing
4. not finishing through with a project I did start
5. being intimidated by tons of blank walls (I know, so silly!)
6. lack of money or time
The Nester encourages me to toss all those things out the window and just go for it! I love it!
If you have some free time, I recommend going over there and taking a look around. She's done amazing things with her home--almost all on the cheap! Be motivated and inspired!